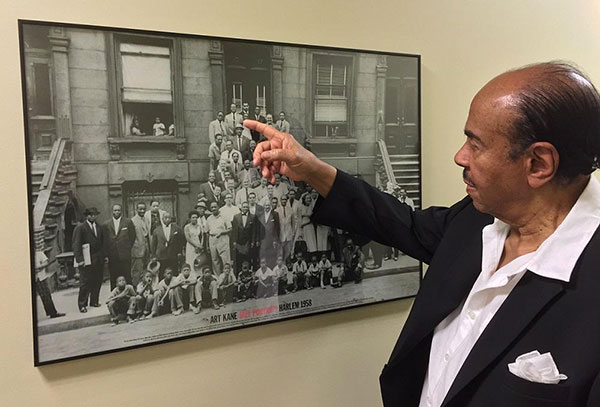 Benny Golson pointing at himself in the 1958 Art Kane photograph


Watch a great CBS piece and interview with Benny Golson about the famous photograph, its creation and Benny's first visit to the original stoop 60 years later. Also, read an insightful essay from the Wall Street Journal about this iconic moment in jazz history.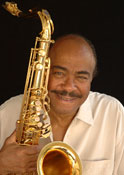 Welcome, friends!
It gives me so much pleasure to welcome you to my official website. As you know, I started my career in jazz about 65 years ago. I was privileged "to cut my teeth" with the renowned Benny Goodman, Dizzy Gillespie, Lionel Hampton, Earl Bostic and Art Blakey. Travelling all over the United States, Europe, Asia and South America, I have been playing the music I love so much.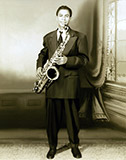 To those of you who are just hearing about me, please read my bio in the Artist Profile. Over the years, so many of you have supported my music by coming to my performances and buying my records and CDs. To all of you, my deep and personal THANK YOU!
As you know, I love to interact with my friends and fans worldwide. This website gives me the wonderful opportunity of staying in touch with you and ... more so, of hearing from you personally.
Also, come back regularly to be alerted about upcoming shows and performances.
And remember, friend .... visit my site as often as you can ... and please! .... don't forget to tell your friends about it too! Thank you for visiting.
LET'S STAY IN TOUCH!
Benny Golson

Rhys Phillips Radio Cardiff
>
radio cardiff jazzspecial website

Saxsounds Magazine
Barcelona, Spain
>
saxsoundsmagazine.com


All About Jazz

"Jazz Great Benny Golson
is Young Again"

Read a review of Benny's performance at the Lincoln Center in New York in January 2014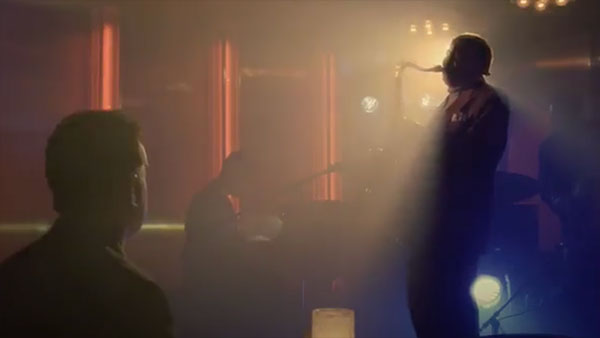 Tom Hanks' character watches Benny Golson play Killer Joe in a hotel lounge while waiting to get his autograph.
In Steven Spielberg's 2004 film The Terminal, Tom Hanks plays an Eastern European man who is stranded at JFK for months and while doing so keeps a promise to his late father. He sets out to obtain the only missing autograph of the 57 jazz musician assembled in
A Great Day in Harlem
. The missing autograph is that of Benny Golson.
The Autograph
- Tom Hanks and Benny Golson Scene

Promises
- Tom Hanks and Catherine Zeta-Jones


WHO WAS BETTY?
Find the answer to this question in our featured article from the WSJ 2012.
Read the article



Due to the Covid Pandemic all of Benny's national and international concerts have been cancelled.

for details



Reviewed by Jack Bowers
At age eighty-seven, saxophonist Benny Golson is one of the last surviving links to the Golden Age of modern jazz, ushered in by the likes of Charlie Parker, Dizzy Gillespie, Bud Powell, Kenny Clarke and others in the early '40s .....
..... At an age that is far past retirement for most mortals, Benny Golson not only keeps working but showing a younger generation that when it comes to contemporary jazz, maturity and experience are dependable allies in the ongoing battle with Father Time.
Read the full review





Browse this great portal for Benny-related video, poster art, music, articles and more.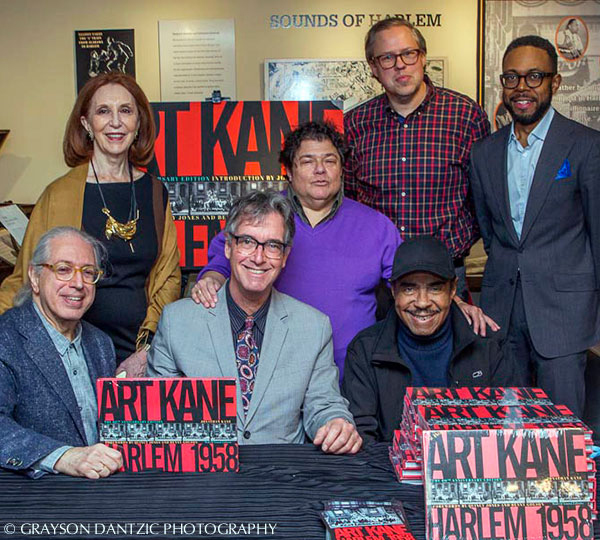 Art Kane's son Jonathan Kane and Benny Golson during a presentation celebrating the publication of 'Art Kane Harlem 1958'. Photgraph by Grayson Dantzic.
'With the publication of this handsome book we get a closer look at some of the out-takes of Art Kane's excellent work. It's heartwarming to see some of these people greeting each other as the cabs roll up to the appointed place. There's no ego on display here. These are great artists who recognize each others' gifts. I would heartily recommend this book to any jazz and/or photography lover.'
(
excerpt from an online review by Don Brown
)
Purchase the book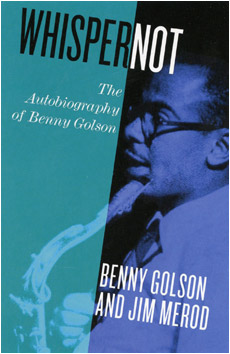 Buy it at:
> Barnes and Noble
> Amazon

Benny Golson and the Fritz Pauer Trio
Jazzland (Vienna) 2009

Benny's Solo for Stolen Moments
Viersen (Germany) Jazz Festival 2008

Benny Golson plays "Along Came Betty" in front of an audience of jazz students as the culmination of a master class in playing jazz held at Loyola University, New Orleans, and discusses how he wrote the song.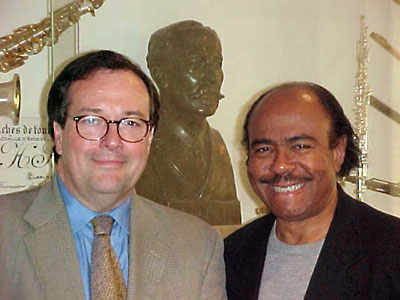 Selmer Saxophones
"I've been a tenor saxophone player since the age of 14... ...But in the beginning, at age 9, I fancied I wanted to become a concert pianist and went about working very hard (practicing) pursuing this career, acquiring a small repertoire that I made use of when playing for ladies' tea parties and fashion shows......."