Benny Golson Photo Gallery
2012 - Germany
Benny plays with his long-time German friends, the group Seeharmonie in the summer of 2012 in Friedrichshafen.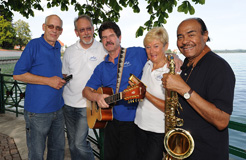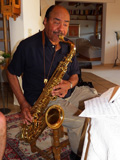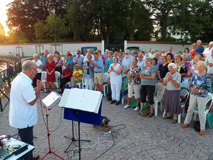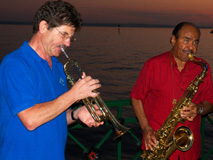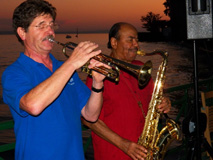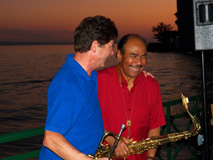 2011 - Chicago
Jazz Showcase
2010 - Den Haag
2010 - Czech Republic
2008 - Philadelphia
The Clifford Brown Symposium was a three-day event hosted by The University of the Arts in Philadelphia from Oct. 30-Nov. 1, 2008. Those in attendance included musicians, educators, historians, and jazz fans; among the featured events were performances by Terence Blanchard, Benny Golson, Lou Donaldson, Marcus Belgrave, the Lars Halle Jazz Orchestra, John Fedchock, University of the Arts ensembles, and many others. Paper presentations and discussions featured Phil Schaap, Lewis Porter, Al Hood, Geneva Brown Griffin, Jimmy Heath, Clifford Brown Jr., and Nat Hentoff
The event marked the premiere of the video documentary Brownie Speaks, produced and directed by composer, pianist, and University of the Arts Head of Graduate Jazz Studies, Don Glanden.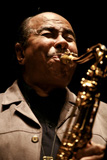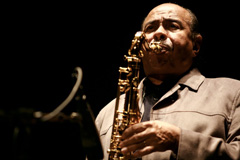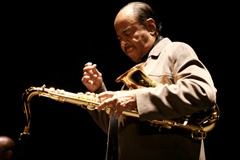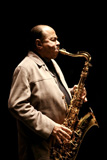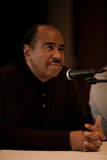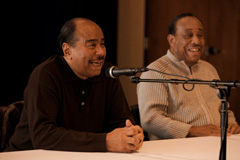 2007 - Germany
2006 - Italy
1987 - Helsinki
Hello Benny!
I met you and Bobbie during the Festival mentioned above. And I met you again about a week ago in Helsinki at Birdland Jazzclub. I showed you these photos, wich I sent to you and Bobbie about 22 years ago by post, but it seems that you never got them. Here they come, and I hope they will reach you this time! The best and warmest regards to you and Bobbie, and thanks for a wonderful concert!
Sincerely Yours, Göran Rökman, Helsinki